Michael Greenblatt's Bio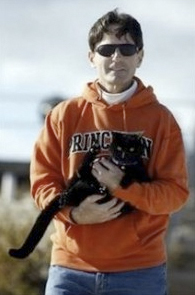 Celebrity fitness trainer Michael Greenblatt is the proud owner and trainer of Roadrunner the Cat, the incredible, long-distance running cat. Michael has trained over a thousand high-profile athletes and celebrities including Christie Rampone, former Captain of the U.S. Women's National Soccer team. Michael began training the soccer star in 1993 while he was a fitness trainer at his Alma Mater, Monmouth University in West Long Branch, N.J. Christie has competed in 4 Summer Olympics winning 3 Gold Medals and 5 World Cups winning 2 Gold Medals.

Michael has also trained Rhea Perlman, Carla on "Cheers," longtime CBS-TV morning news anchor Susan McGinnis for several marathons, and while fitness supervisor at Princeton University, All American 10-meter platform diver Danielle Stramandi who went on to become a member of the U.S. Women's National Diving Team. Michael presently does corporate fitness training at CNBC-TV, Johnson & Johnson, New York Life and MasterCard. Michael wrote chapter five on circuit training for the New Jersey Council on Physical Fitness and Sports book titled, "Get Fit New Jersey."

Michael is also an actor and model. He has appeared on "All My Children" with Susan Lucci (Erica Kane) on several occasions and in the Academy Award-winning film, "A Beautiful Mind", with Russell Crowe and Jennifer Connelly. In the 7th "Rocky" Movie, "Creed", Michael plays the part of an English Soccer Fan for the Everton Football Club. In the 8th "Rocky" Movie, "Creed 2", Michael plays the role of a VIP attending the Heavyweight Championship Boxing Match. He appeared in a major New York Transit print and billboard advertising campaign in New York City and throughout the Empire State.

From May 1992-March 1994, Michael held the title of "Mr. New Jersey", making 165 appearances(many for worthwhile charities). He is a staff judge for the "Miss America Organization", having judged "Miss New Jersey" preliminary pageants since 1994.

Michael received his Bachelor of Science Degree in Psychology from Monmouth University in West Long Branch, N.J. In College, he played varsity Tennis serving as team Captain and varsity Soccer.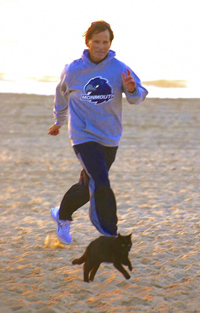 Photo of Roadrunner running on the Lavallette, N.J. Beach by Mary Motsay - Sole Mare Images

Photo at top of page: Bradley J. Penner for Asbury Park Press